Insurers face ratings downgrade threat from S&P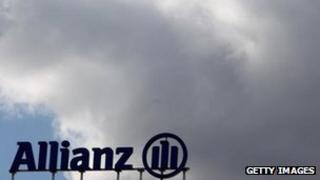 Some of Europe's top insurance companies have been warned their credit rating could be downgraded as a result of the European financial crisis.
The warning comes from the rating agency Standard and Poor's, which earlier this week warned most eurozone countries they could be downgraded
Allianz, Aviva, Axa, Generali and Mapfre were among 15 firms warned.
Credit ratings are used by lenders to gauge the likelihood of their borrowings being paid back.
That in turn affects the price borrowers pay for credit.
S&P said the "credit watch" was related to the earlier warning on the ratings of 15 of the 17 countries of the eurozone.
In a statement it said: "We are placing the ratings on certain European insurance providers on credit watch negative.
"Depending on the outcome of our review of the ratings on the eurozone member governments, the long-term ratings on these insurers could be lowered by one or two notches, and short-term ratings for some issuers could be lowered by one notch."
The full list of insurers also names Caisse Centrale de Reassurance, CNP Group, Irish Public Bodies Mutual Insurances, Millenniumbcp-Ageas Group, Nacional de Reaseguros, Pozavarovalnica Sava, RSA Insurance Ireland, Societa Cattolica di Assicurazione, Triglav Group and Unipol Group.
Among the countries warned on Monday were Germany, the Netherlands, Finland, Luxembourg and Austria, who were told their rating could be marked down one notch.
France, the eurozone's second-largest economy, was warned it could be given a two-notch cut downgrade.
S&P said it would complete a review of the 15 countries' ratings "as soon as possible" after this week's EU summit.