Car hire firm in spotlight over unrefunded deposits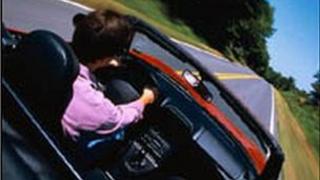 What can you do if a car hire firm does not return your deposit, even if you have returned their vehicle as they requested?
Radio 4's Money Box programme has been contacted by two listeners who found themselves in this position with the same company.
Karishma, a newly qualified barrister from London, was being visited by her parents from India this summer so the family looked online to find the cheapest car hire deal for their stay.
They found what they thought was a good quote on a website, car-hire-uk.com, a firm based in St Leonards on Sea in East Sussex.
The firm asked for a £900 deposit, which the family paid, expecting it would be returned as soon as they returned the car and it was checked over, but that did not happen, as Karishma told Money Box: "Although we returned the car back in the same shape and refilled the fuel, they haven't returned the £900 back to us and now it's December."
Broken promises
Karishma says she has been in constant communication with the firm but after six months none of its promises of payment materialized.
Tracey from Kent also contacted Money Box after she had a similar experience with the same firm in October. She said she had no idea a big deposit was required until the car arrived: "The car was dropped off to my partner and unbeknownst to me or him when we made the booking online, he was asked for a £600 excess payment in case anything happened to the car."
But like Karishma, Tracey says she ended up making many phone calls to request the return of the deposit, without success: "I'm very angry and very frustrated at the length of time and stress involved in trying to recoup this money."
Money Box has seen three consumer forums with many other similar complaints from people across the world who say that their deposits to the firm also have not been repaid.
Bromley Trading Standards confirmed they had received a number of complaints about the company which they were investigating.
Money Box raised Karishma's and Tracey's cases with the firm and both deposits have now been repaid.
Terms & conditions
Maurice Goodwin, a director of car-hire-uk.com, said he believed customers were aware of the firm's deposit system before they picked up the car: "It's in the terms and conditions, obviously they're aware of it before they book."
He said most customers were very happy with his firm's service: "It's a small percentage who don't get their full deposit back. Obviously we only deduct for what damage they cause and which charges they incur."
Rochelle Turner, Head of Research at Which? Travel, said customers should do some research before they book online:
"You can go to customer forums and type into one the big search engines the company's name and find out what other people's experiences have been with that company."
Customer redress
She was critical of firms which take deposits rather than just earmarking the sum:
"If they are going to do this, it needs to be absolutely crystal clear that this money will be taken from their accounts at the point of purchase."
She said if for any reason a deposit is not returned, customers can appeal to their bank to use either the Consumer Credit Act or to "charge-back" the sum:
"It is a breach of contract and that's what Section 75 protects you for and also charge-back."
BBC Radio 4's Money Box is broadcast on Saturdays at 12:00 GMT and repeated on Sundays at 21:00 GMT.