RSPCA warns shoppers about 'illegal eggs'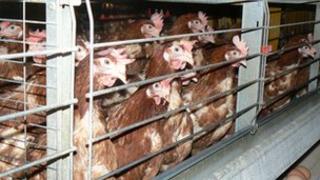 The noise, and smell, of 40,000 hens in a dimly-lit Cheshire shed is not for the faint-hearted.
About 60 birds jostle inside each cage. They will never know daylight, or feel the ground underneath their feet.
But thanks to a new European directive, these birds can consider themselves relatively lucky.
They enjoy special perching areas, a scratching pad, and a dedicated "nesting" corner, in a cage that is considerably more spacious than it used to be.
Like all British egg farmers, Duncan Priestner has had to invest a large amount of money to conform to the new EU welfare standards that come into force in three weeks' time.
"It is still a cage. I'm not pretending it isn't. But it's a high-welfare cage," Duncan says.
"We can tell as farmers that these hens are a lot happier in these systems, and we are getting very good production out of them as well," he adds.
While Duncan Priestner's egg-layers may be planning something of a hen party come New Year's Eve, the RSPCA will most definitely not be celebrating.
Rogue eggs
The trouble is that even though the EU originally decided to ban the smaller, bare wire, battery cages back in the 1990s, 13 member states have failed to implement the new standards in time for January.
Their eggs will therefore be cheaper, and millions of them will still find their way to the UK.
All the big supermarkets have agreed not to sell such rogue whole eggs, and most have gone further by banning them from own-brand processed food.
But the RSPCA warns that many of the eggs will still find their way into branded cakes, quiches or mayonnaise.
Not just in supermarkets, but in restaurants too.
Alice Clark, one of the RSPCA's senior scientists, says consumers will have no way of telling that the eggs come from illegal farms, even if they look at the packaging.
"There's nothing on there that can tell them where those eggs have been laid, so unwittingly they may be buying products from hens kept in illegal systems, the old barren cages," Alice says.
Ideally the RSPCA would like all caged eggs banned, in favour of barn, or free-range eggs, but it welcomes the new rules as a first step.
The supermarkets
Eight of the biggest supermarkets have already agreed not to sell any eggs that do not conform to the new welfare standards, either as whole eggs, or in their own-brand manufactured products.
But Guy Mason, from Morrisons, admitted that the situation could be a little confusing for customers.
"If a branded product comes from one of the 13 EU states that aren't complying with the new legislation, then sometimes it will be difficult for consumers to tell," he says.
But he went on to say that as long as shoppers buy own-brand food, they can be sure it will conform to the new rules.
Down in the fresh egg aisle, a quick glance shows that most eggs are no longer from caged birds anyway.
Either they are free range or barn eggs, where the birds are free to roam on the ground, but inside a barn.
However they are more expensive than those labelled "from caged hens".
'Exceedingly good practice'
Some food manufacturers are also promising not to use eggs from illegal European farm systems.
Premier Foods, makers of the Mr Kipling range, uses four and a half million tonnes of eggs a year, in the form of liquid or dried egg.
All its dried egg is imported.
The Mr Kipling range of cakes, slices and tarts is already made using only free range eggs: in the words of its old slogan, exceedingly good practice, perhaps.
But the company hopes to go further and ban caged eggs from all its products by the start of the new year.
Ian Bowles, the company's sustainability director, makes a clear promise.
"As from January next year, we will not buy a single egg laid by a hen in a cage," he says.
"We intend to be 100% free range egg, or barn egg, by then."
Prices driven down
The National Farmers Union (NFU) remains concerned that other food producers will be tempted to buy the eggs from illegal systems in Europe because they will be cheaper.
And it is concerned that egg producers in the UK will be undercut as a result.
British farmers have spent £400m taking out the old-style battery cages, and installing the new "community" or "enriched" cages.
"It will drive the prices down that farmers get," says Duncan Priestner.
"Like the pig industry, that will put us in a very difficult financial position."
In the meantime the government has defended its position not to try and ban the old-style battery eggs altogether.
Because of the failure to reach agreement on enforcement of the EU directive, it is putting its faith in the voluntary bans by supermarkets and producers.
It is promising to carry out spot-checks to try and stop rogue eggs coming into the UK.
But otherwise it is simply advising concerned shoppers to buy their eggs from companies that have promised to respect the latest welfare standards.