Toyota Motor halves profit forecast due to Thai floods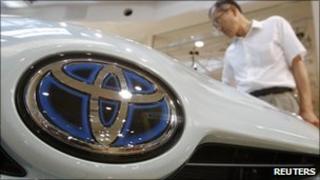 Toyota, Japan's largest carmaker, has halved its profit forecast for this year due to disruptions caused by Thailand's floods.
It now expects a net profit of 180bn yen ($2.3bn; £1.5bn) for the year ending 31 March 2012.
The firm issued its previous forecast of a 390bn yen profit in August.
It withdrew the forecast last month after supply disruptions of some crucial parts halted production at factories in 10 countries.
The firm lost output of 215,000 cars globally between 10 October and 25 November.
Japanese auto makers have had a tough year so far, with both the March earthquake and Thailand's disaster affecting their production.
Analysts said Toyota could be set to lose its title as the world's largest carmaker to General Motors and possibly trail behind Volkswagen in terms of output this year.
In its forecast, the company also blamed the yen's strength, which makes its products more expensive overseas, for the downward revision.