French bank ratings downgraded again by Moody's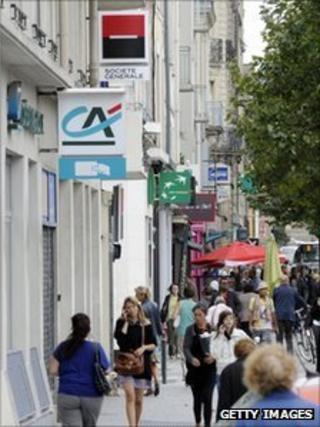 Credit rating agency Moody's has downgraded France's three big banks due to their difficulty borrowing money.
The agency cut Credit Agricole and BNP Paribas from Aa2 to Aa3, and Societe Generale from Aa3 to A1.
The move follows a previous rating cut by Moody's for Credit Agricole and Societe Generale in September.
"Liquidity and funding conditions have deteriorated significantly" for each of the banks, Moody's said, adding that the problem was likely to worsen.
"The probability that the bank will face further funding pressures has risen in line with the worsening European debt crisis," the rating agency said of each of the three.
It also assigned a negative outlook to all three banks' ratings, warning that it will continue to monitor the European bank debt markets, and would downgrade them again if conditions look set to worsen.
Markets shrugged off the news, with share prices in all three banks closing higher, BNP Paribas and Credit Agricole finished more than 4% up. Societe Generale made a more modest gain of over 2%.
Dollar shortage
The latest downgrades follow a review launched by Moody's immediately after the previous downgrades, "to consider the implications of the persistent fragility in the bank financing markets, given the banks' continued reliance on wholesale funding".
The markets for short-term cash lending between European banks have become increasingly stressed since the summer.
On Thursday, the European Central Bank unveiled a string of new measures to ensure that eurozone banks do not run out of cash.
Eurozone banks have also found it particularly hard to maintain their borrowing in US dollars, as many US money market funds have refused to lend to them since the summer.
Crisis jargon buster
Use the dropdown for easy-to-understand explanations of key financial terms:
AAA-rating
The best credit rating that can be given to a borrower's debts, indicating that the risk of borrowing defaulting is minuscule.
Last week, the problem prompted the European Central Bank, the US Federal Reserve and four other major central banks to agree to help each other provide cheap emergency loans to their banks in each other's currencies.
The surprise move sparked speculation that one or more major European banks may have been on the point of collapse.
Both BNP Paribas and Societe Generale have announced large asset sales in recent months, in order to reduce their total exposures and their reliance on short-term wholesale funding.
BNP plans to sell 70bn euros of assets, or 10% of the bank's entire balance sheet, with a focus on its dollar-denominated loans.
Moody's welcomed these moves, but it also warned that if a lot of European banks all tried to sell off assets at the same time - as seemed likely - that would depress their market value, meaning they would be sold at a loss.
Capital call
The September downgrades were due to the bank's exposure to Greece in the case of Credit Agricole, and Moody's view that the bank no longer enjoyed the same level of government support in the case of Societe Generale.
In its latest decisions, Moody's again flagged up the banks' continuing, albeit reduced, exposure to troubled European governments such as Greece and Italy.
The rating agency's announcement came a day after the European Banking Authority said that the continent's banks would have to raise 115bn euros ($154bn, £96.25bn) in capital to be sure of withstanding future financial shocks.
Capital is the bank's buffer for absorbing losses, and can be raised by selling new shares, or by retaining profits by cutting dividends and bonuses.
French banks were told to raise 7.3bn euros in total - considerably less than their peers in Germany, Italy or Spain.