China's inflation rate falls to 4.2% in November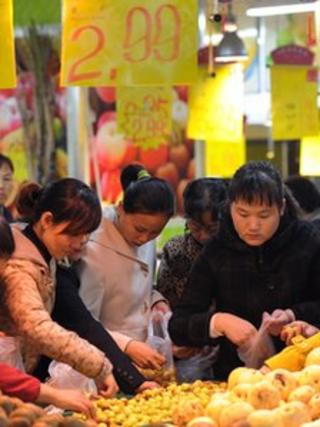 China's rate of inflation has fallen in November to its slowest pace in 14-months.
Consumer prices rose at 4.2% compared with the same month last year, the National Bureau of Statistics said on Friday.
Inflation was at 5.5% in October, after hitting a three-year high in July of 6.5%
Analysts said this creates more room for authorities to ease monetary policy and encourage economic growth.
"The numbers confirmed that inflation is easing quickly in China," said Hua Zhongwei from Huachuang Securities in Beijing,
"As such, China's policies have to shift to the pro-growth side in a stronger and quicker way."
Turning point
The slowing pace of inflation allows Chinese authorities to turn their policies more towards growth, as Europe's crisis starts to affect Asia.
China has seen demand for its products shrink, as consumers in Europe and the US cut back on spending as growth slows in those regions.
Manufacturing activity contracted in November for the first time in 33 months, data showed.
These indicators have increased concern that China could be headed for a slowdown as well.
In what was seen as a shift in policy towards growth, China cut the amount of money banks must keep in reserve last week.
It was an attempt to free up credit and encourage lending.
Future plan
Policy makers are meeting this month to map out the direction for economic policies in 2012.
"We will see some changes in the nuance of the announcement after next week's central economic work conference," said Zhou Hao from ANZ in Shanghai.
"But we will see clearer signs of relaxation in what they do."
China's economy expanded 9.1% in the third quarter, the slowest pace in two years.