Libya's oil industry improving rapidly after war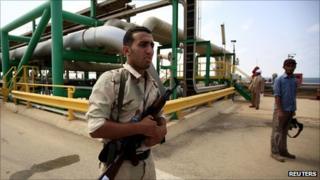 Libya's oil industry is recovering from this year's war at a much faster rate than many people had hoped.
The revenue earned from the energy sector will ultimately pay for the reconstruction of this war-damaged nation.
Before the conflict, it was producing 1.6 million barrels of oil a day.
The fighting pretty much shut down the industry, as desert oil fields were deemed unsafe and oil rigs had to be abandoned because of the internationally-imposed no fly zone.
But in the few months since the end of hostilities, oil output has been increasing rapidly.
According to the National Oil Company, Libya is now pumping just over half of its pre-war level - 840,000 barrels a day.
The NOC has said it expects to be back at its pre-conflict output by the end of 2012.
Some in the industry are even more confident than that.
Bullet holes
"I expect that by the end of the first quarter (end of March) we'll get back to where we were," says Nasser El Ghali Sharif, the chairman of Zawiya oil refinery, located on the Mediterranean Sea in a city to the west of Tripoli.
His site was taken over by Col Muammar Gaddafi's army, just after it had been closed down in an attempt to deprive the government forces of fuel.
It is now refining just as much as it was before the revolution started, mainly because oil sites were not damaged as much as many had feared.
"Gaddafi destroyed the entire system in this country but he did not destroy the oil industry because that was where his money was," says Mr Sharif.
At Zawiya, some of the huge oil storage tanks had bullet holes in them, cars and computers were stolen, and a tug was blown up by Nato forces.
"It's costly to repair, but I call it slight damage because I can operate with it. We are now under a lot of pressure to maintain the need of our people."
Security situation
Further along the coast towards the border with Tunisia is a large oil and gas complex, with silver-coloured pipes weaving their way over and under each other.
Oil and gas is funnelled here from deep in the desert. The oil is transferred on to ships. Gas is sent along a 500 km pipeline on the seabed all the way to Sicily in Italy.
High above the site, bright orange flames are set against the blue sky, as excess gas is being flared.
The facility is owned by Mellitah Oil and Gas, a joint venture between the NOC and the Italian firm ENI, which is the biggest investor in Libya's energy sector.
Mellitah's chairman, Najmi Karim, says it is now pumping 70% of what it was before the conflict.
"We are facing some technical problems and are trying to solve these. Hopefully by the end of the year we'll be able to restore full production," he says.
Some of their oil fields in the Libyan desert were damaged by forces loyal to Colonel Gaddafi.
Expat workers
Workers' accommodation was looted, generators and monitors were broken, but crucially most oil producing equipment survived.
"We have to do testing of some of wells that have been closed for a long time... We can then continue to produce and increase our production," he says.
Expatriate workers are largely yet to return to Libya, as many remain nervous about the precarious security situation.
Najmi Karim is proud that it is mostly his Libyan workers who have been ramping up production.
"We are trying to limit expat manpower to very specific technical areas where our staff need more training and experience," he says.
"The security situation has improved a lot from the early days. I don't see any concern for our staff and I encourage the expats to return and maybe they can assist the situation."
But in the cities the security situation is far from stable.
Former rebels fighters are on the streets, armed with machine guns. Others drive around in civilian pickup trucks with heavy artillery bolted to the back. Sometimes, there is a gun battle and people are killed.
Oil sites are guarded by these fighters.
They, along with most oil firms, are restricting access to some of the remote desert sites, and those which are thought to have been damaged the most.
A storage tank at Es Sidr oil refinery burnt down, and land mines were planted at several facilities.
As oil production increases, many foreign oil firms have got their eye on possible new contracts in Libya.
Security situation
The interim administration, the National Transitional Council, has said it will leave any deals to a democratically-elected government.
"They are a caretaker government... They don't have the mandate, the right, the ability to engage in any major signing of contracts for oil fields," says Sami Zaptia, the managing director of Know Libya, a consultancy in Tripoli.
In the early days after the war, there was some suggestion that Russia and China, who did not back Nato's military action in Libya, might lose out on any future oil contracts.
"Those countries who stood with Libya will get some kind of nod, some kind of preference. But that does not mean this will not be a transparent system," says Mr Zaptia.
One politician, who says he will stand for the position of prime minister, goes even further.
"I respect those powers who helped us, and they should get special treatment from the new Libyan government," says Dr Abdurrahman Sewehli.
He says China, Russia and Germany, who were "actively against any military intervention" in Libya, would not.