MF Global boss doesn't know where money is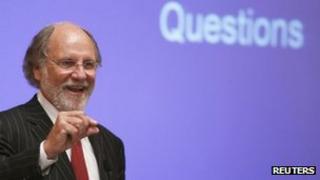 The head of bankrupt US brokerage firm MF Global, Jon Corzine, has told a congressional committee that he has no idea where its clients' money has gone.
An estimated $1.2bn (£760m) in customer cash is missing from accounts.
The company filed for Chapter 11 bankruptcy on 31 October after making a $6.3bn bet on European sovereign debt.
In response to questions, Mr Corzine denied knowingly moving money from "segregated" customer accounts.
"I never intended to break any rules... I would never intend to direct or have segregated funds moved," he said.
In written testimony read out to the committee Mr Corzine apologises to "all those affected" by the business's failure.
Missing money
"I simply do not know where the money is, or why the accounts have not been reconciled to date," he added.
In the statement Mr Corzine said he consulted with other board members on the eurozone investments.
He also denied that the bets were the main cause of MF Global's collapse.
Instead he says decisions by previous management which forced the company to declare a loss meant "the marketplace lost confidence in our firm".
The firm's losses - he said - were not the result of its eurozone investments.
"None of the foreign debt securities has defaulted or been restructured, all were paid in full," he said.
However some experts have suggested the eurozone bets played the key role in MF Global's collapse.
As confidence in the ability of eurozone governments to pay back their debts fell, analysts say investors became worried about MF Global's ability to absorb any losses.
"His entire testimony looks like a very skilled way to try to detract from that key issue," said Janet Tavakoli, president of Tavakoli Structured Finance.
Mr Corzine headed MF Global for 20 months after stints as a Democrat Senator and chief executive of Goldman Sachs.
Fifth amendment
He was subpoenaed by the US House of Representatives agriculture committee following questions over the whereabouts of client money.
It is extremely rare for a former US congressman to have to testify in a federal investigation.
Mr Corzine, who faces possible indictment over the collapse, says he has chosen not to invoke the fifth amendment which gives US citizens the right not to answer questions.
However, he suggested he may do so in some cases.
"Without adequate time and materials to prepare, I may be unable to respond to various questions members might pose," he said.
Congressmen are likely to push questions from farmers and small businesses concerned as to where money they invested with the firm has gone.