Lloyds' exhausted boss wants to return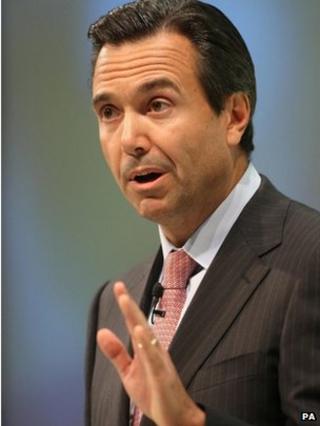 Antonio Horta-Osorio, the chief executive of Lloyds who took a leave of absence from the bank because of exhaustion, wishes to return to work, I am reliably informed.
However he is in effect having to re-apply for his job, because the board of Lloyds needs to be reassured that he won't again become incapable of working.
A decision on whether he will return will be taken by the board before Christmas - and my hunch is that he will be back in the saddle early in the new year (although that is by no means a racing certainty).
There are two aspects to the assessment by Lloyds' directors, led by the chairman, Sir Win Bischoff, of whether Mr Horta-Osorio should come back.
First a thorough medical investigation is taking place.
Lloyds' board has appointed a medical specialist, who has advised the bank's directors on the nature of Mr Horta-Osorio's condition.
More importantly, this specialist has talked to Mr Horta-Osorio's doctors and has had access to his medical records going back 15 years.
The specialist is now in the process of conducting medical examinations of Mr Horta-Osorio and will tell the board whether - in his opinion - Mr Horta-Osorio has made a full recovery.
Also each member of Lloyds board is meeting with Mr Horta-Osorio on an individual basis, to hear from Mr Horta-Osorio why he thinks that he collapsed, and what lessons he has learned.
Which takes us to the second part of the assessment being make by Lloyds' directors.
That is whether Mr Horta-Osorio is capable of working and living in a way that does not lead him to be deprived of sleep and relaxation - and allows him to do the job both effectively and in a way that doesn't take an excessive toll on him.
In practice, this means the board needs to be convinced that Mr Horta-Osorio will become better at delegating, at setting the direction of the bank, but not micro managing every decision.
Directors of Lloyds are aware that there is some scepticism among its shareholders that Mr Horta-Osorio can run the bank in a way that doesn't impair his own health. Which is why they are evaluating his condition and capabilities almost as if he were re-applying for the job.
That said, I have spoken to big investors, who tell me that they were generally impressed with his performance before he was forced to bow out - and would be happy to have him back, so long as he works in a way that doesn't burn himself out.
The most important shareholder is UK Financial Investments, which looks after taxpayers' 41% stake in the bank.
Were the board to decide that it doesn't want Mr Horta-Osorio back, he would be entitled to compensation of a year's salary and bonus - but he would be substantially out of pocket, because he lost his pension when he left Santander and has not built up any significant new entitlement at Lloyds.
The £5m of shares he received when joining Lloyds are now worth less than half that, because of the collapse in the bank's share price.
The former Barclays director David Roberts - a non-exec of Lloyds - would take over as chief executive for an interim period, if Mr Horta-Osorio leaves. Mr Roberts would stay in the job for six months to a year, or long enough for Lloyds to find a permanent replacement.