UK interest rates kept on hold at record low of 0.5%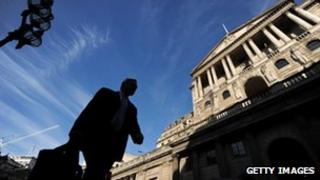 UK interest rates have been held at a record low of 0.5% by the Bank of England's Monetary Policy Committee.
Concerns about the strength of the economic recovery and the eurozone debt crisis meant that economists had expected rates to remain unchanged.
Interest rates have been kept at 0.5% since March 2009.
The Bank did not announce any increase in its policy of quantitative easing. In October, the Bank said it would pump another £75bn into the economy.
The Bank had already pumped £200bn into the economy with asset purchases between March 2009 and February 2010.
Ian McCafferty, chief economic adviser of the CBI employers' organisation, said: "With the Bank's current round of asset purchases likely to run into early next year, this decision to keep monetary policy on hold is in line with our expectations.
"Developments in the eurozone remain the key risk to the UK's economic prospects. While there are encouraging signs that progress will be made at this week's summit, it's clear that the situation is at a critical juncture."
The Bank hinted last month that it will take until February to administer the latest £75bn expansion in its QE programme.
However, many economists expect a further £50bn-plus of QE early next year.
Recent economic data has made gloomy reading, with the influential NIESR think-tank estimating this week that growth slowed again in the three months to November to 0.3%, from 0.4% in the three months to October.
It followed warnings from Bank governor Sir Mervyn King that UK banks should brace themselves for a potential eurozone collapse amid fears of a second credit crunch.
Howard Archer, analyst at IHS Global Insight, said: "Holding back on more QE until early 2012 also gives the MPC more time to judge whether inflationary pressures are easing, which some committee members believe is important for the Bank of England's credibility before it goes further down the QE road."