Shoe firm Barratts enters administration again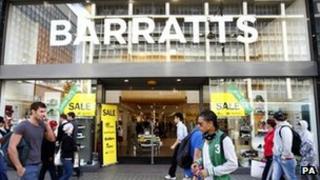 High Street shoe chain Barratts Priceless Group has been placed into administration again, placing the jobs of 3,840 people at risk.
The Bradford-based firm has 191 stores, under the Barratts and Priceless Shoes names, in the UK.
The owner of Barratts was previously in administration in 2009.
"Barratts and Priceless Shoes have faced a downturn in trading as a result of the difficult economic conditions," administrators Deloitte said.
Barratts also operates 371 concessions in department stores around the country.
"We are working closely with suppliers to ensure the business has the best possible platform to secure a sale, preserve jobs and generate as much value as possible for all creditors," Deloitte added.
The previous administration of Barratts resulted in 220 of its 380 stores being closed.
The firm is one of several High Street names that have been hit hard by weak demand over the past couple of years.
Home furnishings store Habitat went into administration in June, as did Jane Norman. Focus DIY did the same in May.
Carpetright has closed 38 stores since March 2010, while HMV sold its Waterstone's book retail chain to refocus its business.