EU faces Standard & Poor's credit rating threat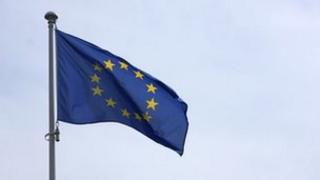 Standard & Poor's has said it will review the top AAA credit rating of the European Union for possible downgrade.
The move adds the 27-nation bloc to a previously announced review of 15 of the 17 eurozone countries, including France and Germany.
A rating cut would affect the bloc as a whole, but not individual members. The ratings of non-eurozone countries such as the UK are not at risk.
It comes as EU leaders meet for a crisis summit in Brussels.
"The credit watch on the EU is an expression of our concerns about the potential impact on the future debt service capacity of eurozone sovereigns, and therefore also the EU, in the context of what we view as deepening political, financial, and monetary problems within the eurozone," the rating agency said.
S&P indicated that the EU's rating would be cut one level to AA+ if it decided to downgrade either France or Germany or both.
The action affects the European Atomic Energy Agency, Euratom, as well as the European Financial Stability Mechanism (EFSM).
The EFSM - to which all EU members, including the UK, contribute - has been used to part-finance the bailouts of Portugal and the Irish Republic.
On Wednesday, the rating agency also put a string of major eurozone banks on review for downgrade.