Japan's Yukio Edano rebuffs Tepco bailout claim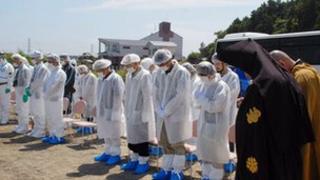 Japan's trade minister Yukio Edano has denied reports that troubled nuclear firm Tepco is about to receive a huge government bailout.
Mr Edano said Tepco, which runs the crippled Fukushima nuclear plant, had made no requests for public money.
Reports said the government would buy about 1tn yen ($12.9bn; £8.2bn) of Tepco shares next year - which would in effect nationalise the firm.
Tepco shares plummeted on Thursday, ending the day down more than 11%.
The firm faces massive compensation payments and clean-up costs after March's tsunami and earthquake caused three of the Fukushima plant's reactors to go into partial meltdown.
The government had already agreed a 900bn yen bailout fund in November to help pay compensation for those affected.
Reports on Thursday in Japanese media said the 1tn yen share purchase was separate from the bailout fund.
The reports quoted unnamed sources saying the government would seek shareholder approval to lift the ceiling on issuance of Tepco shares at a meeting in June.
Some reports put the prospective share purchase figure as high as 3tn yen.
But Mr Edano told reporters on Friday: "As of now no requests have been made [from Tepco], and it is not the case that we are making arrangements in the direction of injecting public funds.
"We are considering with all kinds of possibilities in mind."