Olympus board to quit by February as probe announced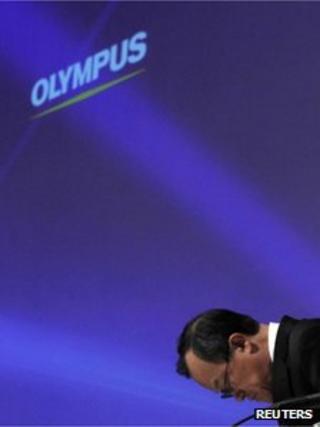 The entire board of Olympus intends to resign and some members will be subject to an internal inquiry into wrongdoing, the company has said.
A third director of the scandal-hit Japanese camera maker quit on Wednesday
Chairman Shuichi Takayama said he and the rest would follow as soon as a shareholders meeting could be arranged, the earliest being late February.
Mr Takayama also unveiled a probe into the $1.7bn (£1.1bn) accounting scandal to examine the role of 70 executives.
Local press reported that the chairman himself was on the list.
The move came a day after a separate external investigation said executives were "rotten to the core" and had spent 13 years covering up the company's losses.
Delisting threat
The internal inquiry would be carried out by an external committee, and could lead to lawsuits being brought against those found responsible, MrTakayama said.
The chairman promised the board would go once it had filed its statutory quarterly results - which must be provided by 14 December if the firm is to retain its Tokyo Stock Exchange listing - and after they had had a chance to put the company back on track.
"Our corporate governance was severely criticised. As the representative of the company, I apologise sincerely," said Mr Takayama.
Olympus' former chief executive, Michael Woodford, resigned from the firm's board last week in order to launch a campaign to oust the other board members.
He said he was assembling a new team to try to take over the board's operations and was seeking shareholder support.
Olympus is being investigated for accounting fraud over payments made for various acquisitions.
Mr Woodford has claimed that he was fired from the role of chief executive for questioning those payments.
The Olympus saga has seen the company's share tumble more than 50%.