China warns of 'severe challenges' to exports to West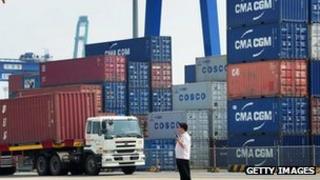 China faces "severe challenges" to its exports due to economic difficulties in key Western markets, the country's commerce ministry has warned.
Data due to be released on Saturday will show a sharp slowdown in export growth in November, the ministry said.
Sales to Europe and the US, which comprise about 40% of total exports, were not expected to recover next year.
The ministry said China would instead target exports to developing markets in Asia and Latin America.
Weaker manufacturing
China will also try to boost its imports from the West, the ministry said, in order to help support their economies and to balance out China's trade surplus.
Exports to the European Union fell 9% in October versus a year ago, and exports to the US fell 5%.
The country's total exports, however, were still up 15.9%, thanks in part to booming demand from Latin America.
But it was the weakest annual growth rate in two years, and exports were sharply down compared with a month earlier.
"There is a lot of concern in Beijing about weakening demand from the developed world, especially from Europe," said Michael Pettis, economics professor at Peking University.
"China is still overly reliant on domestic investment and net exports to generate growth," he added, noting that Beijing was also recognising that further debt-fuelled growth in domestic investment was storing up problems for the economy and the country's banks.
The poor performance was mirrored by a recent manufacturing survey, which indicated that the sector contracted in November for the first time since the 2008-09 Western recession.
The commerce ministry also blamed rising wages in China for hurting its trade competitiveness.
'Not realistic'
"Next year, I think that we will face severe challenges in our exports and imports," said Foreign Trade Director Wang Shouwen.
"There won't be fundamental improvement in Europe or the United States, and costs at home will stay as high as this year, so the foreign trade situation will be severe next year.
"However, some developing and emerging economies are enjoying sound economic performances, so we will attach more importance to exports to these countries."
But China's plan to focus on developing markets is not realistic, according to Professor Pettis.
"Europe, the US and Japan account for more than two-thirds of the rest of the world's consumption, and it is hard to imagine that the developing world can replace them over the next several years.
"To make matters worse, much of the growth that is occurring in the developing world is driven by Chinese demand for commodities.
"So if China is serious about reducing it's over-reliance on investment it will have the unfortunate consequence of reducing growth in the developing world just when China needs it most."
Attempts to increase its exports to the developing world may also meet with resistance.
Recent data showed that Brazil's economic growth had slowed to a standstill.
The country - Latin America's biggest - has previously complained about the threat to its own export competitiveness posed by the weakness of Western currencies.
Meanwhile in India, the mood may be turning against opening up the country's economy to foreign competitors.
The government suspended plans to let global supermarkets compete in the country, following political uproar and public protests.