Stagecoach profits down due to East Midlands Trains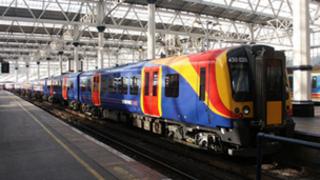 Stagecoach has announced a fall in half-year profits of 18% due to a loss at its East Midlands Trains franchise.
The travel group made a pre-tax profit of £88.7m, down from a profit of £108.7m a year earlier.
Performance at its UK rail division deteriorated, recording an operating loss of £6.9m compared with a profit of £22.9m a year earlier.
Stagecoach chief executive Sir Brian Souter said he expected East Midlands Trains to return to profit next year.
Although profits were down at the group, sales were up 14% at £1.29bn.
"These are good results and we have achieved further revenue growth across our bus and train businesses in the UK and North America," Sir Brian said.
The company, one of the UK's largest travel firms, also has significant operations in the US and Canada. Stagecoach announced in October it would expand its Megabus budget travel business in the US.