Comet owner swings to loss and warns of tough trading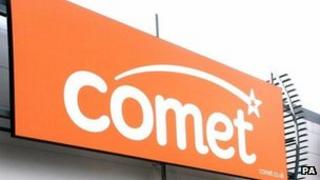 Anglo-French electrical retailer Kesa, which is selling its Comet business, has reported a half-year loss and said market conditions are more challenging.
The group reported a pre-tax loss of 9.2m euros (£7.9m) for the six months to the end of October, compared to a profit of 32.4m euros a year earlier.
Comet made a pre-tax loss of 25.7m euros over the period.
Last month, Kesa announced plans to sell off Comet for just £2 to a private equity group.
Sales at the UK electrical retailer slumped 18.6% in the six months period.
Kesa had exceptional charges of 133.6m euros, 109.9m euros of which was due to the sale of Comet.
Group chairman David Newlands said the sale of Comet would being financial relief.
"The disposal is expected to improve significantly the group's financial strength," he said.
Comet's buyer is a group of companies under the name Hailey, advised by retail turnaround specialists OpCapita.
The sale is expected to involve the closure of some of Comet's 250 stores.
'Well prepared'
Excluding Comet, Kesa's retail arm made a profit of 16.5m euros in the six months to the end of October, compared to a profit of 38.8m euros a year earlier.
Chief executive Thierry Falque-Pierrotin said there was some positive news from other European economies: "A strong performance in Belgium and... an improving trend in Turkey, the Netherlands and Spain."
He said the company was "well prepared" for the peak season and had cut its costs by 7%, the benefits of which would be seen in its next half-year results.
Although revenues at the group fell 7.9% to 2.57bn euros, gross margins improved due to a strategy of focusing on small domestic appliance sales that are more profitable, the group said.