Shop price inflation falls to lowest level for a year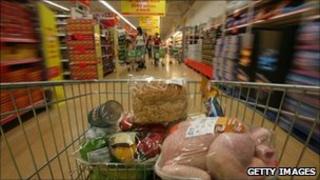 UK shop price inflation fell to its lowest level for a year in November, according to the British Retail Consortium (BRC).
The rate of price increases was 2% in November, down from 2.1% in October.
Food price inflation was still relatively high, but down to 4% from 4.2% the previous month. Non-food inflation remained at 0.8%.
The retailers' organisation said competition between shops had also helped keep prices down.
"It's been a slow start to Christmas trading and many retailers have reduced prices further in recent weeks to help boost footfall and spend in store," said Mike Watkins from Nielsen, the analysts who collate the data.
Lower inflation
Last month the Office of National Statistics reported that UK Consumer Prices Index (CPI) inflation fell slightly to 5% during October, down from a rate of 5.2% the month before.
Falls in the price of food, air transport and fuel helped to push the inflation rate lower.
Despite the drop, the rate still remains well above the Bank of England's target of 2%.
Retail Prices Index (RPI) inflation - which includes mortgage interest payments - also fell to 5.4% from 5.6%.