BoA seeks mortgage settlement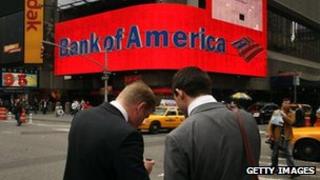 Bank of America has agreed to pay $315m (£196m) to investors who say they were misled about mortgage backed securities sold by the firm.
The settlement was revealed in court papers late on Monday night.
However the deal, with the Public Employees' Retirement System of Mississippi pension fund, requires the approval of a judge.
It is the latest in a long line of settlements by US banks - some of which have been rejected by judges.
In the first half of the year Bank of America offered $12.7bn to settle similar claims with other investors.
However, the latest deal, for securities under-written by Merrill Lynch, includes no admission of guilt from the bank which may mean it is rejected by the Manhattan based judge, Jed Rakoff.
Last week Judge Rakoff rejected a similar settlement from Citigroup with the Securities and Exchange Commission.
The judge said settlements should not prevent information emerging regarding "the transparency of financial markets whose gyrations have so depressed our economy and debilitated our lives."