Brazil's economic growth stalls in third quarter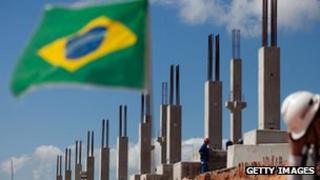 Brazil saw its economic growth stall for the three months to the end of September, official figures show.
Its GDP growth was zero compared with the previous quarter, said the country's IBGE statistical bureau.
The government now expects 3.5% growth in 2011, as against 7.5% last year.
Brazil's main interest rate, known as the Selic, has been cut from 12.5% to 11% since August in a bid to boost growth, but is still the highest in the G20 group of leading economies.
Brazil's central bank has had high interest rates for many years, encouraged by fears of a return to the runaway inflation that plagued the country in the 1980s and early 1990s.
"The central bank's decision to cut interest rates early has been fully vindicated and the Selic will probably fall further - perhaps to 9.5% in the first half of next year," said analyst David Rees of Capital Economics.
"Another relevant factor was the worsening situation in the eurozone in the third quarter, which had a big impact on investments," said Andre Perfeito, chief economist at Gradual Investments.
Chinese competition
Brazil's farming sector grew by 3.2%, while its service and industrial sectors shrank by 0.3% and 0.9% respectively compared with the previous three months, said the Brazilian Institute of Geography and Statistics (IBGE).
The largest buyer of Brazilian foodstuffs is China, which overtook the US as Brazil's largest trading partner in 2009.
Although Brazil currently sells more to China than it imports, Brazilian manufacturers have complained that their industries are being affected by cheap mass-produced goods from the Asian giant.
Earlier this year, Brazil imposed a new tariff of $4 a kilo on Chinese synthetic fibres, which are already subject to a 26% import tax.