Winter freeze for UK house prices, says Halifax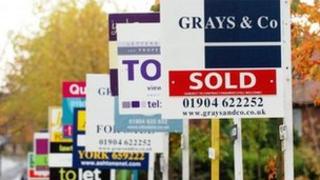 The subdued picture for UK house prices has continued with the Halifax reporting a 0.9% monthly drop in the value of the average home in November.
The lender, now part of the Lloyds Banking Group, said house prices had lost the gains of the previous month.
It said the average house price was 1% lower than a year ago, at £161,731.
Values had been resilient despite the economic climate and it predicted that prices and sales would remain "broadly unchanged" in the coming months.
Squeezed finances
The Halifax said that prices fell by 0.6% in the three months to the end November compared with the previous quarter.
This measure, regarded as less volatile than monthly changes, fell for the second month in a row, following three months of increases.
The annual price drop of 1% is slightly different than the picture painted by the rival Nationwide Building Society, which said that there was a 1.6% year-on-year rise in November.
However, the year-on-year comparison is calculated slightly differently by the two lenders. The Halifax compares the previous three months with the same three months a year earlier to give a smoother comparison, rather than a direct comparison of the equivalent months.
Both lenders agreed that prices had shown surprising strength despite concerns about the economy.
"Overall, house prices have remained remarkably stable in 2011 despite the difficult and deteriorating economic climate and the substantial pressure on households' finances," said Martin Ellis, Halifax's housing economist.
The interactive content on this page requires JavaScript
'Paltry' sales
The figures come shortly after the Land Registry said that the pace of house price falls in England and Wales picked up in October, with prices down 3.2% on a year earlier.
Tracy Kellett, director of the home buying agency BDI Homefinders, said: "Behind the apparently contradictory data lies a housing market which is still essentially stagnant, with paltry levels of transactions. This is why tiny variations in the numbers will make house price indexes fluctuate wildly.
"But the fundamentals of house selling and buying have not changed. With so few of them around, buyers can afford to be choosy.
"But good properties that are priced sensibly are selling well. Detailed and careful research of the local market is still the only way to gauge whether a property is priced realistically."