Australia cuts cost of borrowing as inflation slows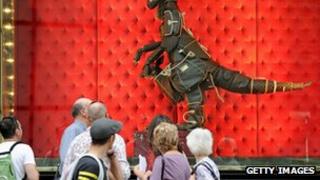 Australia's central bank has cut interest rates in an effort to encourage economic growth.
The Reserve Bank of Australia (RBA) lowered its benchmark cash rate by 0.25% points to 4.25% on Tuesday.
It follows a rate cut last month, the first since April 2009.
The decision comes after the RBA concluded that inflation in Australia appeared to be under control at a time when global economic activity was slowing.
"Growth in the global economy has moderated this year after a strong performance in 2010," RBA governor Glenn Stevens said in a statement.
"The sovereign credit and banking problems in Europe, to which European governments are still seeking to craft a full response, are likely to weigh on economic activity there over the period ahead," he added.
Mr Stevens noted that trade in Asia was being affected by "significant slowing" in Europe.
One benefit of the global slowdown has been a moderation in commodity prices and inflation, which allows central banks to cut rates.
The RBA believes inflation is likely to be between 2% and 3% next year and in 2013.
The central bank traditionally targets headline inflation in that range.
Consumer prices in Australia rose by 3.5% in the July to September quarter, from the same period in 2010.