RIM investigated after sale turns into stampede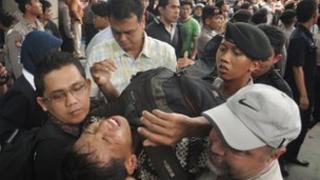 Blackberry maker Research in Motion (RIM) has said it will co-operate with Indonesian authorities after a product launch turned chaotic, injuring dozens.
The Associated Press is reporting that RIM's country head for Indonesia is being treated as a suspect.
The stampede on 25 November occurred after RIM promised the new device at half price for the first 1,000 customers.
Indonesia is one of the fastest growing markets for Blackberry phones.
Reuters news agency quoted police investigators saying that Andrew Cobham, RIM's Indonesia CEO could be charged with negligence.
Mr Cobham, a Canadian, has not been detained but is banned from travelling, according to Reuters.
Associated Press said Mr Cobham was among four suspects who could face charges of negligence leading to injury.
The maximum penalty for the crime is nine months in prison.
Thousands turned up for the promotional event for the Blackberry Bold 9790, some queueing from before midnight.
Several were injured when the crowd turned unruly.
"We sincerely regret that many loyal customers experienced frustration and upset, and that some individuals suffered injuries," RIM said in a statement seen by the Wall Street Journal on Monday.
The company said it would launch its own investigation. There was no mention of allegations against Mr Cobham.
Indonesia has become one of the key markets for RIM, where Blackberry phones are more popular than other smartphones.