Italy borrowing costs fall on austerity plan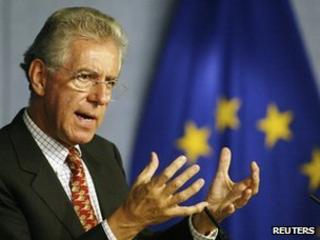 Italy's implied cost of borrowing in financial markets has fallen after new Prime Minister Mario Monti unveiled his austerity plans over the weekend.
By Monday afternoon, the country's 10-year bond yield had fallen to about 5.95%, from 6.66% at Friday's close.
The government has adopted a package of emergency austerity measures aimed at fending off insolvency.
Meanwhile, the French and German leaders are meeting ahead of a key eurozone summit on Friday.
The Italian austerity measures are part of a broader agreement being put together by France and Germany with other eurozone leaders, which is expected to pave the way for the European Central Bank to finance a bailout of the Italian government.
A sharp rise in Italian and Spanish borrowing costs to levels seen as unsustainable in the long run, as well as a broad collapse of market confidence in Europe's banking system, has raised fears that the countries may ultimately be forced to exit the single currency.
The 5.95% interest rate implied by markets for a 10-year loan is still higher than the rates Italy faced only two months ago.
It remains close to levels that Rome would find unaffordable to pay as and when it reborrows the money needed to meet the payments falling due on its heavy debt load.
Meanwhile, stock markets in Europe also rose modestly, led by the Milan bourse, where the FTSE MIB 50 index was 2.9% higher in late afternoon trading.
'Save Italy'
The former EU commissioner Mr Monti, who replaced Silvio Berlusconi as prime minister last month in response to the financial crisis, has moved quickly to announce painful budget-cutting measures.
Taxes on the assets of the wealthy will go up, as will pension ages.
There will be a major drive to tackle tax evasion, including a ban on cash transactions in excess of 1,000 euros, down from a current limit of 2,500 euros.
Pension ages will rise to 62 for women and 66 for men, and most payments will be unlinked from inflation. The pension age for women will rise to 66 from 2018.
In all, the austerity package is estimated to represent 20bn euros (£17bn; $26.8bn) of savings from now until 2014.
The measures were agreed at a cabinet meeting held 24 hours ahead of schedule because of the growing pressure on Italy's finances.
Mr Monti said the measures were necessary to "save Italy", and announced he would give up his own salary as part of the effort.
The plans must still be approved by the Italian parliament.
Minimum wage
The reforms also include measures aimed at boosting output in a country whose economy has grown just 0.75% per year on average for the last 15 years.
The entry requirements for regulated professions such as lawyers will be lowered to encourage more competition.
Mr Monti also announced plans to weaken protection for full-time employees while seeking to improve the lot of the growing number of part-time and casually employed workers, including the introduction of a minimum wage.
However, these labour market reforms will first need to be discussed with business organisations and the unions.
Emma Marcegaglia, head of Italian employers' lobby Confindustria, said: "The choice is between adopting tough austerity measures and starting the euro rescue, or Italy not being able to stand on its feet, and we risk the collapse of the euro."