UK shopping habits transformed by technology, KPMG says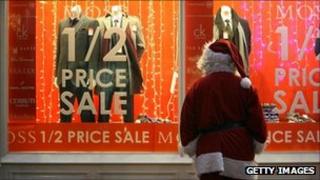 UK shoppers are embracing technology, and at a faster pace than many other countries, a survey of global shopping habits by KPMG has suggested.
Seventy-seven per cent of British shoppers prefer to buy goods like CDs, DVDs, books and video games online - compared with 65% globally.
But when it comes to mobile banking, consumers in the UK are more reluctant than those in other parts of the world.
KPMG surveyed 9,600 consumers aged between 16 and 65, across 31 countries.
When buying goods or services, the majority of customers (both in the UK and globally) now said that they look at social networks such as Facebook and Twitter and online review sites.
Downloading Apps
"From buying goods on their mobile phones to keeping up with friends on social networks, consumers are increasingly reliant on a range of technologies that perform important - yet often overlapping - tasks," said Tudor Aw, KPMG's European head of technology.
"This new 'converged lifestyle' will have huge implication for retailers."
Eighty-eight per cent of respondents in the UK and worldwide reported downloading an app to their mobile.
In the UK, 74% of consumers said they were more likely to buy flights and holidays online and six in 10 used some form of online grocery shopping.
In the US, by contrast, the same amount would book flights but only 21% said they were more likely to buy groceries online.
But when it comes to mobile banking, only 27% in the UK said they had used some form of mobile banking in the past six months.
That compares with 52% globally - a massive jump from just under 20% in 2008, according to the audit firm.
Consumers in the UK are also more reluctant to embrace the cloud - storing their data online rather than on their own computers - with 53% of respondents saying they do some compared with 65% globally.
"The report also shows that consumers' concerns over privacy and data security have increased over the last few years and companies across all sectors need to take this concern seriously," Mr Aw said.