Fewer new jobs and more competition in City, firm says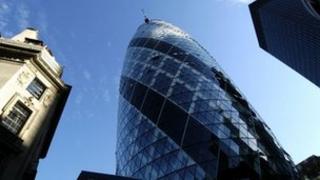 The number of qualified staff for each vacancy in the City of London is at the highest for two years, according to a financial services recruitment firm.
There are 5 qualified candidates for each job, compared to 1.7 at the start of the year, Astbury Marsden said.
In November, the firm said there were 2,670 new vacancies in the City - fewer than the previous month.
Banks have been cutting jobs as the weak UK economy and eurozone debt crisis takes it toll.
The Royal Bank of Scotland, for example, has cut 27,500 jobs since the beginning of the financial crisis.
Lloyds Banking Group has also cut 27,500 jobs since 2009 and in June said that it would cut 15,000 more.
Astbury Marsden said there was a high number of investment bank staff in the capital's financial area searching for new roles, and a decrease in the number of new jobs.
"It means they are being pitted against more intense competition then they may have faced for years," said Mark Cameron, chief operating officer at Astbury Marsden.
"However, this is the silver lining for those few institutions or departments looking to hire; they should be able to pick a higher calibre of candidate from a wider pool."
It said the number of qualified staff for each City vacancy is at its highest level since December 2008 - the height of the financial crisis.
Banking and financial services such as insurance account for nearly 20% of London's total income, and around 10% for Great Britain, according to the City of London Corporation.
It said that there were about 349,200 people employed in the sector in 2008.