Lloyds bank 'may claw back former boss's £1.4m bonus'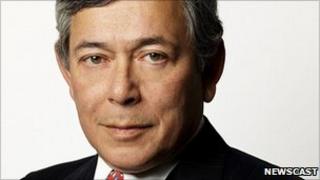 Lloyds Banking Group is looking to "claw back" up to half of the £1.45m bonus it awarded to its former chief executive, it has been reported.
The Telegraph says lawyers have told Eric Daniels and other senior executives that it is considering withholding part of their bonuses.
The part-nationalised bank is taking action after it announced a £3.9bn loss for the first nine months of 2011.
A spokeswoman for the bank would not comment on Mr Daniels' bonus.
Lloyds announced in May that it was setting aside up to £3.2bn to cover the cost of compensating people over its mis-selling of payment protection insurance (PPI).
In November, Lloyds' current chief executive, Antonio Horta-Osorio, took extended leave due to stress-related illness.
Shares deferred
The 2010 bonuses are said to be deferred in the form of shares that are not handed out until at least March 2013.
In January, the BBC's business editor Robert Peston said Mr Daniels had turned down a bonus in each of the past two years but will not do so again - however in February Mr Daniels said he would not make a decision until 2013.
Reports claim that between one third and one half of the former chief executive's bonus may be clawed back.
It is thought to be the first time that a major UK bank has considered withholding a bonus awarded to a board-level executive.
The bank's spokeswoman said: "As part of an ongoing process the implications on compensation are being considered by the remuneration committee and will be determined by the board in due course, in line with the FSA (Financial Services Authority) code on compensation."
The government bailed Lloyds out after it took over HBOS in 2008, a move which cost it billions of pounds as HBOS had held far more bad debt than originally thought.
The government still holds a 41% stake in the bank.