US House seeks testimony from Jon Corzine on MF Global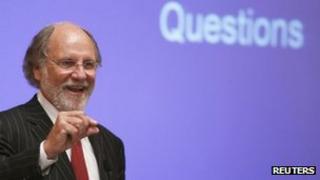 A US House of Representatives committee has voted to subpoena the former head of collapsed brokerage firm MF Global, Jon Corzine.
Mr Corzine, the former Goldman Sachs chief and ex-senator for New Jersey, will now have to testify before Congress under oath.
An estimated $1.2bn (£760m) in customer cash is missing from MF Global's accounts.
MF Global was the first US casualty of the eurozone debt crisis.
Mr Corzine will testify before the House Agriculture Committee. Chairman Frank Lucas said his testimony "is essential to fulfil our objectives".
The Senate's Agriculture Committee will meet next week to vote on whether to subpoena Mr Corzine, if he and other company executives do not agree to appear before the panel on 13 December.
It is extremely rare for a former US congressman to have to testify in a federal investigation.
Mr Corzine has not yet confirmed whether he will appear. He resigned from the company on 4 November.
MF Global filed for Chapter 11 bankruptcy after making a $6.3bn bet on European sovereign debt.
The shortfall of customer cash doubled from original estimates of about $600m, according to liquidators.
Bankruptcy trustee James Giddens is leading an investigation into claims that MF Global misused its customers' cash in its final days of trading to shore up its own finances.