US unemployment rate falls sharply to 8.6%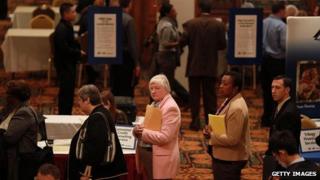 The US unemployment rate dropped sharply to 8.6% in November, its lowest level in two-and-a-half years, from 9% the month before, official figures show.
The US economy added 120,000 new jobs in November, the Department of Labor said, in line with forecasts.
The number of jobs created in September and October was revised up by 72,000.
The US has struggled for many months with slow growth while the unemployment rate has remained stubbornly high.
One of the reasons for the sharp drop in the unemployment rate in November was the large number of people who gave up looking for work, and therefore were no longer counted as part of the workforce.
The report helped the US market to open higher, with the Dow Jones index climbing 0.8% in early trading.
Upward revisions
The private sector added 140,000 jobs during the month, while government employment continued to fall.
The retail sector saw the biggest gains, with 50,000 jobs added, while the leisure and hospitality, business services and healthcare sectors also saw strong gains.
Manufacturing and construction, however, saw little change.
The number of jobs added in October was revised up to 100,000 from 80,000, while the figure for September was pushed up to 210,000 from 158,000.
Analysts were generally encouraged by the jobs figures.
"This is a pretty handsome looking report in my mind. The US has clearly turned a corner," said Eric Lascelles at RBC Global Asset Management.
Others were more circumspect.
"The really good news is that employment has grown for four months running - in large steps," said Pierre Ellis at Decision Economics.
However, he pointed out that "a lot of the drop in the unemployment rate comes down to a decline in the size of the labour force, which is quite large".
The unemployment figures come one day after data showed the pace of growth in the US manufacturing sector in November grew at its strongest pace since June.
The Institute for Supply Management said its index of factory output rose to 52.7 from 50.8 the month before.