OFT launches investigation into Groupon advertisements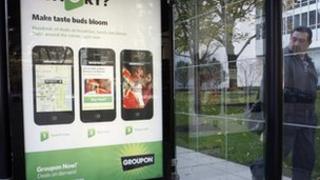 The Office of Fair Trading (OFT) has launched an investigation into Groupon after the firm broke UK advertising regulations 48 times in 11 months.
Groupon, which offers daily deals on products from cupcakes to car hire, has been referred to the OFT by the Advertising Standards Authority (ASA).
However, the OFT says it has been investigating Groupon in secret since July.
The investigation became public after the ASA voiced its concerns.
The OFT launched its own enquiries into Groupon to see if the company was "complying with consumer protection legislation, including in relation to certain of its advertising practices".
The advertising watchdog has made 11 formal rulings of code breaches against Groupon, details of which have been published.
It has also made a further 37 judgements over breaches, details of which have not been released.
Groupon promises companies to bring them new customers, by offering sharp discounts on products and services - in the hope that new customers will return regularly.
The concept, however, can go wrong. In November, a Berkshire cake maker said it almost went bust after it offered a discount on Groupon, but thousands more vouchers were redeemed than it expected.
Need a Cake offered discounts of 75% on cupcakes on the Groupon website and was unable to meet the sudden increase in demand.
Owner Rachel Brown told the BBC: "Without doubt, it was my worst ever business decision."
Last month Groupon listed on the New York stock market, with a valuation of $12.7bn (£8.1bn; 9.4bn euros) However, its share price has since fallen 20%.
In a statement, the company said: "Groupon constantly strives for business practices that are in the best interest of consumers.
"We are constantly evolving business process to ensure customers receive the best possible experience at the highest standards.
"We are cooperating fully with the OFT to ensure that the rights of consumers are protected."