Honda recalls 313,000 cars on airbag concerns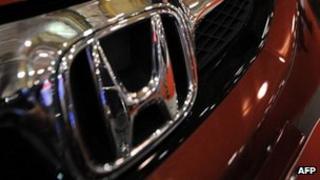 Honda has said it is recalling 313,000 vehicles globally due to concerns about potentially faulty airbags.
The models, all built between 2001 and 2003 and including the Civic and Accord, were found to have airbags that could burst due to defective inflators.
Most of the cars recalled are in the US and Canada, Honda said.
The recall is an extension of those carried out between 2008 and 2010 for the same problem and brings the number of cars recalled to almost 2 million.
Of the latest recall, 280,000 are in the US, 27,000 in Canada and 2,000 in Japan.
"Affected driver's airbag inflators may deploy with too much pressure, which can cause the inflator casing to rupture and could result in injury or fatality," said a statement from Honda in the US.
The carmaker said it was aware of several "incidents" related to this problem.
In addition, the carmaker said it would be inspecting a further 603,000 vehicles that may have been fitted with one of 640 faulty airbag parts.
The recalls in the US include some Accord, Civic, Odyssey, CR-V, Pilot and Accura models.
Carmakers call back cars regularly. Earlier this year, Honda recalled nearly 700,000 vehicles in Asia and North America due to stalling engines.
Rival Toyota has recalled about 12 million vehicles in the past two years.