Strong yen hits Japanese carmakers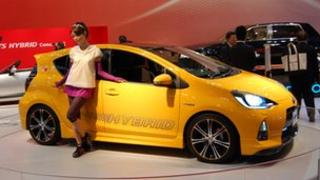 The slogans at Toyota's stand at the Tokyo motor show are clearly designed to pump up the mood, the way an officer might before leading troops into battle, or the way a football coach does before an important match.
"Reborn", declares one, with another crying: "Fun to drive again".
But the marketing teams' sterling efforts have amounted to little, as Japan's carmakers seem to be overwhelmed by a power greater than their own - namely the strength of the country's currency, which makes the cars they make here incredibly expensive abroad.
The yen has risen 8% during the last year, and is currently trading at around 78 to the US dollar.
Carmakers here say 100 yen to the dollar would be an acceptable level that would enable manufacturers to compete internationally.
The situation is so dire that even the man in charge of the world's largest carmaker, Akio Toyoda, is thinking the unthinkable.
"The current exchange rate has really made it difficult to be profitable making cars in Japan," he says, acknowledging that it might be time to reconsider Toyota's commitment to produce three million cars per year in Japan.
"In terms of the business environment in Japan, it is not really viable. Due to the strong yen, it is not possible to produce so much in Japan."
Lengthy battle
Japan's carmakers have always been fiercely patriotic, going to great lengths to protect jobs in Japan even during severe downturns.
But many of them seem to accept that this time they have been defeated.
"Whenever the yen appreciates, we try to cut overheads and costs, but it's a bit of a chase as every year it is getting worse," says Mitsubishi Motors president Osamu Masuko.
"At this moment, we want to protect jobs in Japan, but it's becoming difficult.
"The strength of the yen is the biggest headache we have. It is simply not thinkable to increase production in Japan."
Made locally
That is not to say the Japanese carmakers are preparing to shift existing production out of Japan.
But it does mean that any plans to increase production in Japan have been axed, with the focus shifting towards foreign manufacturing plants closer to the markets where they expect to see growth in the decades ahead.
Mazda, for instance, is opening a new plant in Mexico in 2014, and the company is in talks with the Russian authorities about building an assembly plant there.
Hence, as the carmaker prepares to raise its global sales from 1.3m to 1.7m cars per year, it seems certain that the additional 400,000 will come out of factories outside Japan, chief executive Takashi Yamanouchi explains.
Mitsubishi, similarly, will produce its low-margin small cars in China and elsewhere in Asia. Toyota is investing more in its non-Japanese facilities, including in Europe. And Nissan has stopped investing in Japan.
"Companies are having to make decisions on projects all the time," reasons Carlos Ghosn, chief executive of Nissan. "And there's not one project that we can justify to base in Japan - not one."
Rising prices
The carmakers' shift of manufacturing to other countries could have enormous implications for Japan.
"The signal we're getting from the strong yen is that we should not export from Japan anymore, we should export from Thailand or from China or from Mexico," says Mr Ghosn.
"So what you're seeing is that jobs are shifting to those countries."
But the impact is not limited to Japan.
At the consumer level, Japanese cars are getting more expensive in most markets, with both Mazda and Mitsubishi among those who say they have raised prices during the last year.
Non-Japanese manufacturers are also taking a hit as the strong yen makes the parts they buy from Japan more expensive, explains Ian Robertson, BMW's sales and marketing director.
"And we buy a lot here," he says.
Action required
Obviously, the strong yen is not merely a challenge to Japan's carmakers, but to all the country's export companies. So it is clearly time for the government to intervene, Mr Ghosn insists.
Indeed, for individual companies it may not be much of a tragedy, as companies will adjust, he adds, pointing out that it would be in Japan's national interest to take action.
"I don't buy the argument that there's nothing you can do.
"Japan is the world's third largest economy. It has a lot of clout. Japan can make it happen if Japan wants to make it happen."
Meanwhile, the car industry will do its part to make its Japanese manufacturing internationally competitive, Mazda's Mr Yamanouchi says.
"To address the issue fundamentally, we'll need to look at it on a mid- to long-term basis," he says, pointing to how new, more fuel-efficient technology and manufacturing innovation in Japanese factories are central to its strategy, along with greater spending on marketing to bolster the value of its brand.
Joint efforts by the industry and the government here should go a long way towards helping Japan through this currency crisis, which follows a painful recession since the collapse of Lehman Brothers, last March's earthquake and tsunami, and last month's floods in its export base, Thailand.
"The lesson from Japan is that the Japanese people are incredible resilient," says Nissan's Mr Ghosn.