Pace of US manufacturing growth and car sales pick up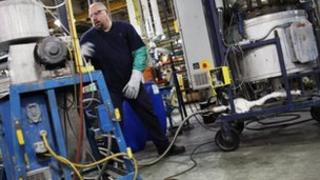 The pace of growth in the US manufacturing sector in November reached its strongest rate since June, a survey has indicated.
The Institute for Supply Management said its index of factory output rose to 52.7 from 50.8 the month before.
The ISM's index of new orders also rose from 52.4 to 56.7, its highest level since April. But the employment gauge fell to 51.8 from 53.5.
Also, Autodata figures showed US car sales last month rose 14% on the year.
According to the ISM report, manufacturing sectors that reported growth included textiles, electronics, and food and drinks. Chemicals, transport equipment and machinery were among sectors that contracted.
An output reading above 50 indicates expansion in the manufacturing sector.
Analysts gave a cautious welcome to the report.
"It was certainly a decent outcome. You're not falling off a cliff, but you're not gaining much momentum either," said Tom Porcelli, chief US economist at RBC Capital Markets.
"It's better than the alternative that most people were talking about, even just a few weeks ago when there was talk of a recession, and things were falling off a cliff."
Separately, the US construction industry spent more in October on new homes, offices and shopping centres, according to the US Commerce Department.
It was the third straight month that construction spending rose.
The Commerce Department said construction spending rose 0.8% in October to a seasonally adjusted annual rate of $798.5bn.
However, that figure is barely half the $1.5 trillion that economists consider healthy for the sector's economy.
Through the first 10 months of this year, construction spending is 2.9% below the depressed levels of 2010.
Car sales boost
Hopes for the US economy were also raised with publication of figures showing that US car sales rose sharply in November, extending a recovery trend to six consecutive months.
Sales rose 14% to 994,721, according to Autodata. It was also the fastest sales pace since August 2009, when the government was offering subsidies so drivers could trade in vehicles.
US sales will hit 13.6m this year if they stayed at the same pace as they did in November. That is a far better rate than the 12.6m in the first 10 months of this year.
Chrysler, Ford, Nissan and Hyundai were among the companies that reported double-digit gains from November 2010.