Analysis: How BMW Toyota deal could lift both firms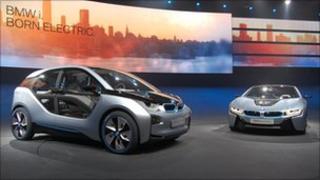 The deal between BMW and Toyota brings together the worlds largest carmaker and the worlds largest luxury car company.
It also brings together two competing technologies, each of which have long been unique selling points for the two firms.
BMW spent years insisting the petrol-electric hybrid solutions pioneered by Toyota offered the wrong solution to environmental challenges facing the motor industry, though it has since developed its own versions and now agrees that there is merit in hybrid cars.
Toyota, meanwhile, has always insists its own diesel engines were as good as any on the market, a claim this deal clearly discredits as the firm now effectively acknowledges that BMW's clean diesel technology is better.
"It is clear that BMW has superior strength in clean diesel technology," Toyota Motor Corporation's development boss, Takeshi Uchiyamada said at the press conference in Tokyo where the deal was announced.
Learning from each other
During the announcement, the two firms steered clear or any mention of past rivalry, instead stressing how they now admire each other's leading positions in their respective fields.
They also stressed the need to further develop the batteries that are used in electric cars, as well as in hybrids.
On balance, it is fair to say that thanks to its petrol-electric hybrid work, Toyota has much more experience with battery technology than BMW does, though the German firm seems more committed to pure electric motoring.
But as the partnership develops further, and as the two firms learn from each other, they might well lift each other to enviable positions from which their partnership could be developed further.
"The agreement marks a milestone for ongoing cooperation between two companies that set the benchmark in complimentary field," BMW's sales and marketing director Ian Robertson said, with Mr Uchiyamada adding that the firms "would like to discuss other areas of cooperation".
Mutually beneficial
That would obviously be a best-case scenario - but it is one that will depend on the partnership being successful.
BMW's arch rival Daimler, which owns Mercedes, is involved in a technology partnership with Toyota's rival Nissan, and this appears to be going well.
A partnership between Volkswagen Group and Suzuki has run into trouble, however, amidst much acrimony on both sides.
BMW has never before dealt with Japanese car firms at his sort of level, and Toyota's previous deals with rivals have until recently tended to be one-way licensing affairs, giving others access to its technologies.
The challenge for both firms will be to make this venture work as a partnership, where both parties bring something to the table.