Toyota and BMW in green agreement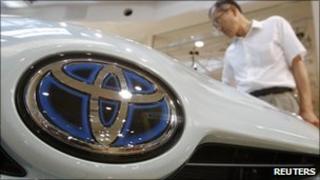 Japanese carmaker Toyota and Germany's BMW are to work together on environmental-friendly motoring technology.
They will do joint research on next-generation batteries for green cars.
BMW will also supply clean 1.6 and 2 litre diesel engines to Toyota, beginning in 2014 for models for the European market.
Bosses from the two companies said they are also discussing other medium and long-term collaborative projects.
Toyota said as a result of the agreement it plans to expand its European range and sell more fuel-efficient, diesel cars.
"It is a great joy and a thrill to enter into this relationship with BMW," said the company's president Akio Toyoda.
BMW chairman Norbert Reithofer said that "supplying Toyota with our fuel-efficient and dynamic diesel engines represents another important step in the planned expansion of our sales activities".
"The agreement marks a milestone for ongoing cooperation between two companies that set the benchmark in complimentary field," said BMW's sales and marketing director Ian Robertson.
The BBC's Jorn Madslien, who is at the Tokyo motor show, said neither BMW nor Toyota had a lot of experience with such co-operation deals.
A similar partnership between Germany's Volkswagen and Japan's Suzuki is currently on the rocks, with Suzuki trying to force an end to the co-operation.