Starbucks coffee chain plans to create 5,000 UK jobs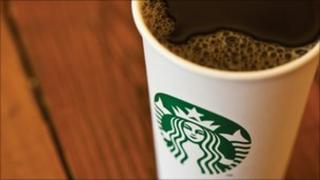 US coffee giant Starbucks plans to expand further in the UK, creating 5,000 UK jobs over the next five years.
The company intends to increase the number of drive-through coffee outlets, typically found at motorway service stations, from nine to 200.
It also plans to open another 100 High Street coffee shops.
This week thousands of jobs have been announced by service sector companies, including pubs chain Marston's, and Hilton hotels.
The announcement comes two weeks after official figures revealed youth unemployment had exceeded one million, and was welcomed by Prime Minister David Cameron, who said it was a "great boost to the British economy".
Kris Engskov, managing director of Starbucks UK & Ireland, said the expansion plans would particularly benefit the young unemployed as half the chain's coffee shop staff are under 24 years old.