Greene King pub chain sees first half profits rise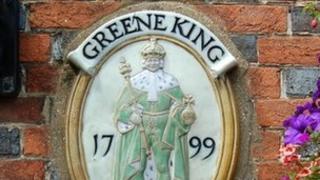 Pub owner and brewer Greene King has joined its rivals in reporting higher half-yearly profits, but warns that it sees a tough year ahead.
Suffolk-based Greene King said pretax profits were up 5.6% at £77.2m, following good results from Marston's and Fuller Smith and Turner.
But Rooney Anand, Greene King's chief executive, gave a bleak assessment of the economic climate.
He said incomes were squeezed and this would not change in the near future.
Mr Anand said in this environment people were looking for "everyday indulgence", echoing Marston's chief who referred to "affordable treats".
He added: "Falling consumer confidence and the weakening of the UK economic recovery suggest that we will face another tough trading environment in 2012.
"Despite this, there are still significant opportunities for growth, and we believe our strategy to grow our retail estate and our share of the eating out market will help us to maintain our track record of strong earnings and dividends."
Greene King operates 2,400 pubs across the country as well as restaurants including the Loch Fyne seafood chain.
Its chains include Hungry Horse, Old English Inns and Bellhaven.