Ex-Olympus chief quits board seeking management change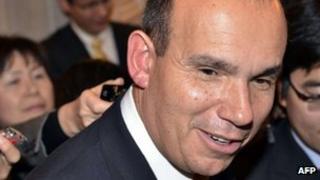 Ex-Olympus chief executive Michael Woodford has resigned from the firm's board in order to launch a campaign to oust the other board members.
He said he was assembling a new team to try to take over the board's operations and was seeking shareholder support.
Olympus is being investigated for accounting fraud over payments made for various acquisitions.
Mr Woodford has claimed that he was fired from the role of chief executive for questioning those payments.
He said he hoped the Japanese camera and medical equipment maker will call a shareholders' meeting by February to elect new directors.
"This won't be aggressive or hostile in any way," he said.
Olympus buyout?
The Olympus saga has seen the company's share tumble more than 50%.
To make matters worse the Tokyo Stock Exchange has warned that the company may be delisted if it fails to file its accounts report by 14 December.
The sharp fall in its market value has led to speculation that foreign firms may be looking at it an attractive takeover target, not least because of its dominance of the global endoscope market where it enjoys close to 70% market share.
"I always felt a buyout led by Woodford was a possible scenario," said Hideyuki Ishiguro an investment strategist at Okasan Securities.
"Woodford himself understands that Olympus' core business, especially in endoscopes, is very strong, so it's likely he may have received some kind of a back-up from investors to take a lead in a buyout."
However, Mr Woodford quelled those concerns saying that he did not think any such move was feasible.
"I am not trying to get involved to sell Olympus to an American healthcare group or an overseas healthcare group. I don't want to be a part of that," he said.
"I just want Olympus to have a board which is trusted and respected and get on with running the company," he added.
"I am quite Japanese in that sense."