Small businesses push Russia's economy forward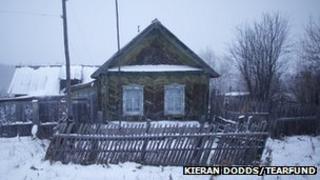 It is 10 years since the Goldman Sachs economist Jim O'Neill first coined the term Bric - Brazil, Russia, India, China - when describing a group of emerging market economies that seemed set on a path of high growth. To mark this anniversary, Peter van Dyk reports from Asbest in Russia for Business Daily.
Lyudmila Ivanova does not look like a budding entrepreneur.
Well into middle age, she has dyed red hair and a blue apron. But for a year, she has run the village shop in Izumrud near Asbest in Russia's Urals.
Almost every village in Russia has a shop like this, one that sells all the essentials - food and snacks, soft drinks and alcohol, and household goods like washing-up liquid and batteries.
Lyudmila says the shop was struggling when she took it over.
"Shoppers were not satisfied with the old owner, the old entrepreneur, because the shop was not up to scratch."
Growth in spending
Russian President Dmitry Medvedev talks a lot about modernisation and the importance of small businesses in moving Russia's economy forward, weaning it off its overwhelming dependence on commodity exports like oil and gas.
That dependence is why Russia can be set apart from the other Bric countries, but like Brazil, India and China, consumer spending is growing, and there is money to be made.
That is why multinational companies are investing huge sums in the Russian market - including $5bn (£3.2bn) from Pepsi.
Lyudmila's shop sells plenty of drinks from Pepsi's Russian subsidiaries, but she knows she is not going to get rich.
"We are not going to earn a lot of money because it is a small village, but we are keeping our heads above water," she says.
Saving for quality
A few minutes' drive through the snow is the small town of Asbest, where Alyona Klimonova runs her own business selling women's clothes from a small shop she rents in a basic shopping centre.
Asbest is a fairly typical industrial town, sitting on the edge of one of the largest asbestos mines in the world. Its big enterprises do well enough that Alyona is doing sufficiently well to think about expanding.
"A woman working in a factory couldn't allow herself to buy a down coat with real fur trim, but now they are buying them for 7,000 or 8,000 roubles ($228-261)," she says.
It is a lot of money for a Russian to spend on a coat, but Alyona says people are used to saving up for big-ticket items.
Spending habits
That helps, but Russia is also richer than the other Brics.
Per capita GDP - a basic measure of a country's wealth - is $16,000, about half that of the US.
"It's doubled in the past 10 years, and it's way ahead of the other Bric countries," says Ben Aris, the editor of Business New Europe magazine, which specialises in the economies of the former Soviet bloc.
"So although China is putting in about 8% GDP growth, if you look at the actual money in people's pockets, Russia leads. It's head and shoulders above the others in both the wealth of the people and how fast that wealth is increasing."
Mr Aris says Russia is fast approaching Western European living standards, and all the catching up means spending money.
A lot of that expenditure goes on renovating outdated apartments, which is something that Maxim Ganeyev has taken advantage of.
He started fixing up kitchens and bathrooms less than a decade ago, but now he also has his own shop selling fixtures and fittings.
"When I started this business, there wasn't even a business plan. I started small and gradually took on more and more. I think it's simpler here - it's a small town, there's not much competition for me, this business is a simulator. I am training for something bigger. And I have plans to move on."
Overcoming hurdles
Maxim worked for several years before registering the company, and he complains that despite its efforts to encourage small businesses, the government does not make it easy enough.
"We're probably not a small business but a microbusiness, and we don't get any kind of support. If anything, it's the other way round - it's harder for a private entrepreneur. We don't feel any particular support from the state," Maxim says.
State-owned banks are encouraged to lend to small businesses and grants of up to 300,000 roubles are available.
Alyona says she got more than 60,000 roubles to help grow her business, and that the government does OK out of her.
"I calculated that the government got the grant back in a year from my taxes, so it's not out of the goodness of their hearts," she says.
"Set your goals and go for them," she advises. "Only the lazy would not be able to make money."
Despite the challenges, small business owners like Lyudmila, Alyona and Maxim are making money, because Russians are spending it.
And that is why big businesses are making money in Russia too.