Public sector strikes: Business assesses cost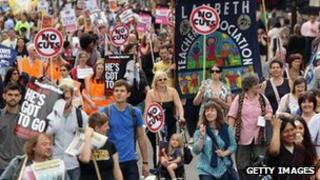 Business groups are counting the cost of the public sector pension strike, although none have put a figure on the damage caused.
However, the groups agreed said that business had been harmed by the walkouts, involving up to two million public sector workers.
Chancellor George Osborne said the strike would harm the economy and mean more job losses.
The TUC said claims that the strike was wrecking the economy were "daft".
Simon Walker, of the business leaders' lobby group the Institute of Directors (IoD), told the BBC: "I certainly think it is doing quite significant damage to the UK economy as a whole.
"If you're damaging the productivity capacity of this country you're really doing huge damage to the fabric of the economy. That will last a long time and impact on all of us."
The chief policy director of the CBI business lobby group, Katja Hall, agreed it would harm the country's wealth.
"Not only is this strike a major headache for parents whose children's schools have closed, it will cost the economy dearly," she said.
Last week, the Treasury estimated the strike would cost £500m through lower public sector output and the knock-on effect on the private sector.
'Unnecessary'
Ministers conceded that the economic impact would be no greater than that of a one-day holiday to celebrate the Royal Wedding.
The IoD's Mr Walker said that, unlike this strike, output lost through bank holidays was a price worth paying: "Days off including bank holidays do cost a lot but we've got to be reasonable about these things, people need holidays.
"What upsets people is this strike is completely unnecessary."
The TUC said the government "had choked growth out of the economy by their deep, rapid cuts".
A spokesman said: "Union members do not take strike action lightly. Of course they regret the disruption caused by today's action, but it is the government that should get the blame as they refused to even begin to negotiate seriously until unions threatened action."
George Osborne said: "The strike is not going to achieve anything; it's not going to change anything. It is only going to make our economy weaker and potentially cost jobs."
John Longworth, director general of the British Chambers of Commerce said that trade unions were ignoring the fact that Britain had to become more competitive.
He also pointed out that strikes, especially at UK airports, could damage the country's international reputation, "as a destination for global investment".
Retail boost?
However, there were indications that some businesses may have benefited from the strike action, with reports that some shopping centres had seen increased business.
Tim Hollands, assistant general manager at Bluewater in Kent, said the shopping centre was about 7% busier.
In Scotland, shops and tourist attractions saw a jump in footfall.
Silverburn Shopping Centre in Glasgow said it expected up to 15,000 more customers than on a normal weekday.