Eurozone unemployment rate rises to 10.3%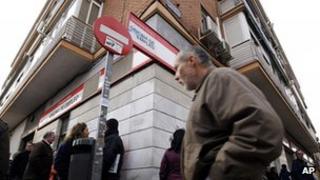 The eurozone unemployment rate rose slightly to 10.3% in October, up from a revised 10.2% in September, official figures have shown.
The number of people unemployed rose by 126,000 from September to 16.3 million.
The rate in Germany fell to 5.5% from 5.7%, while that in Spain rose to 22.8% from 22.5%, Eurostat said. Youth unemployment in Spain rose to 48.9%.
Separate figures also released by Eurostat showed the eurozone inflation rate unchanged at 3% in November.
Earlier this month, the European Central Bank cut eurozone interest rates to 1.25% from 1.5%, and at the time said the inflation rate would remain at "elevated levels" for a number of months.
However, the bank forecast that inflation would fall to below 2% next year.
The latest figures come as EU finance ministers prepare to meet to discuss ways to resolve the eurozone debt crisis.
Ahead of the meeting, EU Monetary Affairs Commissioner Olli Rehn said ministers were "entering the critical period of 10 days to complete and conclude the crisis response".
An EU summit is scheduled to take place on 9 December.