Mouchel 'disappointed' after losses treble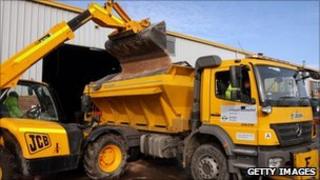 Infrastructure firm Mouchel has posted annual losses of £64.8m, sharply up from a £14.7m loss last year.
Chief executive Grant Rumbles said the results were "disappointing" and the outlook remained "challenging in the short term".
Two-thirds of Mouchel's client base is made up of government spending, which has been sharply cut in the last year.
It also announced it had refinanced its banking facilities with a new £129m loan and credit of up to £51m.
This helped it avoid breaching the terms of its current banking facilities.
New orders
Mr Rumbles said the company would undertake a strategic review to look at all of the business after under-performing in some areas, especially the management consulting arm.
The Woking-based firm's order book was down to £1.4bn from £1.8bn at the same time last year.
Mr Rumbles pointed out that their ability to win new contracts was increasingly difficult because of anxiety about their finances and whether they were a takeover target.
Exceptional items before tax increased by 54% to £69.8m, which included a £45.3m write-down on its management consulting business and a £4.5m loss on contracts.
Last month, Mouchel said a statistical error and mounting risks to contracts would cut its profits by about 60%. It led to the resignation of both chief executive Richard Cuthbert and chairman Bo Lerenius.
Without these exceptional items, the company turned a modest profit of £5m. However, that was down 84% from the same time last year when it made £30.5m.