Marston's pubs to create 1,000 jobs in 2012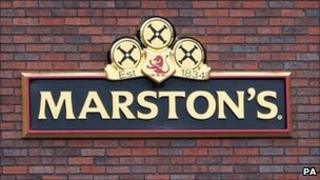 The pubs chain and brewer Marston's says its continuing expansion means it will need another 1,000 employees next year.
The company said it had build 19 new pubs this year and planned to build 25 a year from 2012.
Marston's, which has more than 2,000 pubs across the country, brews Pedigree and Banks's ales.
It said food sales were up 5% on a year ago and made up 42% of total sales. Pre-tax profits rose 54% to £80.8m.
Marston's said it had sold more than 26 million meals over the year, charging an average of £6.10.
Its chief executive, Ralph Findlay, said in a statement: "We achieved impressive sales and profits growth despite a challenging consumer environment. Customers are looking for affordable treats. "