Prada profit surges 75% in third quarter on Asia sales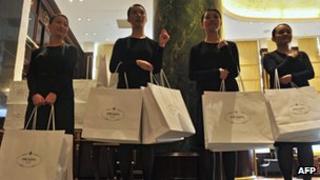 Profits at Italian fashion house Prada soared in the third quarter boosted by increased sales in the Asia-Pacific region.
Prada said it made a net profit of 273m euros ($364m; £234m) in the three months to the end of October, a 75% jump from year earlier.
The jump in profits comes amid concerns that a global slowdown may hurt sales of luxury brands.
The Italian group's brands include Prada, Miu Miu, Church's and Car Shoe.
Sales during the period grew by 25% to 1.73bn euros.
"Once again during the quarter we achieved very strong results in terms of sales and profitability, which confirm the group's ability to sustain high growth rates while improving operating margins," said Patrizio Bertelli, chief executive of Prada.
'Principle market'
While developed markets like the US and Europe are facing a slowdown amid economic issues, the Asia-Pacific region has been growing robustly.
The economic growth of countries such as China and India has seen the rise of a more affluent middle class, which is turning to luxury brands as a symbol of their new-found wealth.
That has seen sales of such goods increase in the region.
Prada said its sales in Asia-Pacific increased by 39% during the period to 580m euros, making the region one of its key markets.
"All geographical areas recorded growth rates in double figures, with Asia Pacific reconfirming itself as the principle market," the company said.