Autumn Statement: Stamp duty concession to end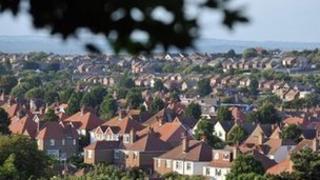 First-time buyers will no longer receive an exemption from stamp duty from March 2012 as the government says the relief is "ineffective".
Documents with Chancellor George Osborne's Autumn Statement reveal the view that the tax relief failed to get more people on the property ladder.
The temporary exemption meant first-time buyers were free from the 1% stamp duty on homes costing under £250,000.
A lenders' group described the decision as "disappointing".
The Council of Mortgage Lenders (CML) said first-time buyers' purchases could be bunched up at the start of next year before the concession is scrapped on 24 March.
Stimulus?
The documents show that the Office for Budget Responsibility (OBR) believes that the UK housing market will remain relatively stagnant.
It predicts that, even without the relief for first-time buyers, stamp duty land tax receipts will only grow marginally from £6bn in 2010-11 to £6.4bn in 2012-13, before rising more sharply to £7.5bn in 2013-14, and accelerating to £11.4bn in 2016-17.
In the Autumn Statement documents, the government said: "The government is publishing analysis showing that the stamp duty land tax relief for first-time buyers has been ineffective in increasing the number of first time buyers entering the market.
"This relief will therefore end on 24 March 2012 as planned. The government is instead prioritising more effective measures which provide better value for money."
The government's housing strategy, announced earlier in the month, included a mortgage guarantee scheme to encourage lenders to offer 95% mortgages to buyers of new homes.
Paul Smee, director general of the CML, said: "While the [stamp duty] concession may not have stimulated additional demand, it was a significant help to home-owners entering the market and its removal runs counter to the themes of the new housing strategy.
"It is likely that we will see a bunching of eligible first-time buyer transactions early next March to beat the expiry date on the concession."
Wendy Evans-Scott, president of the National Association of Estate Agents, said: "First-time buyers are the lifeblood of the property market, and our recent data shows the number of first time buyers getting on to the housing ladder has reached a three-year low.
"With the stamp duty holiday disappearing from next March, the government will need to do more to help the fragile first-time buyer market."