BSkyB shareholders in James Murdoch protest vote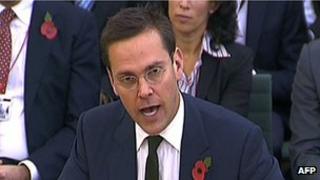 James Murdoch has been re-elected BSkyB chairman, but a fifth of shareholders voted against his reappointment.
A number of key shareholders voted against him at the firm's annual general meeting (AGM), as they would like a fully independent chairman rather than an executive of News Corp.
News Corp owns 39% of BSkyB as well as being the parent of News International (NI), also chaired by Mr Murdoch.
News International owns the News of the World, which closed over phone hacking.
As well as that, the 38-year-old son of Rupert Murdoch holds the post of deputy chief operating officer at News Corp.
Provisional figures announced at the meeting gave him 81.24% of the vote, with 18.76% against.
When votes withheld were taken into account, James Murdoch received the support of 75.4% of shareholders, versus 17.4% opposed and 7.2% withheld.
Excluding votes cast by News Corporation, he received the support of 55% of independent shareholders.
The shareholder move comes after a similar revolt just weeks ago, when he faced another protest vote from News Corp shareholders who were unhappy with his role.
In July, News Corp had to withdraw its $12bn (£7.7bn) offer for the 61% of BSkyB it does not own as a result of the scandal surrounding the News of the World hacking into the voicemails of celebrities and families stricken by tragedy.
Dispute
James Murdoch was not running the newspaper division when the hacking took place, and there is disagreement about how much he knew about what had happened.
He has twice answered questions from a panel of MPs.
Mr Murdoch told them he "disputed vigorously" claims from a former News of World editor, Colin Myler, and ex-legal manager Tom Crone that they told him the significance of an email suggesting phone hacking was widespread.
One of the shareholders who voted against Mr Murdoch's re-election was Standard Life Investments, which manages six million shares in BSkyB.
Its head of governance and stewardship, Guy Jubb, said in a statement: "We should like to see a new and independent chairman appointed.
"Our misgivings had been heightened by the revelations of stewardship short-comings at the News of the World, a title for which Mr Murdoch bore a measure of responsibility."
BSkyB's deputy chairman, Nicholas Ferguson, told shareholders that James Murdoch was doing a good job: "He runs an excellent board.
"Discussions are open and frank, his chairing is very good. He has put in place strong governance procedures. He has a strong strategic view."
The no-vote against Murdoch does not take into account abstentions, which will be confirmed in a regulatory filing later on Tuesday.