Ryder Cup in 2014 sponsorship with Diageo whisky firm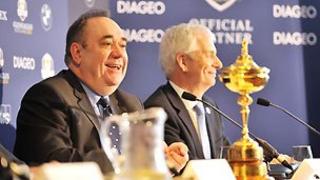 Drinks giant Diageo has been named as an official partner of the 2014 Ryder Cup tournament at Gleneagles, Scotland between 26 and 28 September, 2014.
The deal will see Diageo promote the event in conjunction with its brands, such as Johnnie Walker Scotch whisky.
It also hoped that the biennial golf contest between Europe and the US will boost Scottish tourism.
Alex Salmond, Scotland's First Minister, said the country's economy would benefit by up to £100m.
"Plans for the tournament are progressing well, but the support from sponsors will ensure that the event is able to maximise the benefits to Scotland, be that through increasing visitor numbers or ensuring the tournament is the most spectacular Ryder Cup ever," said Mr Salmond.
When Wales staged the event at Celtic Manor at Newport, in 2010, it is estimated that the money made from golfing tourists was up by 21% to nearly £42m for the year.
Well-known Diageo brands as well as Johnnie Walker, include Crown Royal, J & B, Windsor, Buchanan's and Bushmills whiskies, Smirnoff, Cîroc and Ketel One vodkas, Baileys, Captain Morgan, Jose Cuervo, Tanqueray and Guinness.
The Edinburgh-based firm also owns The Gleneagles Hotel, the host venue for the 40th staging of the event.
As part of its role it will work with Clubgolf - the Scottish junior golf development agency - at a corporate level to help promote participation in golf across Scotland.
A number of initiatives planned for the build up to 2014, the year when Scotland will also host the Commonwealth Games.
The Scottish government recently announced a £2m investment in the Clubgolf programme to build on the legacy opportunity The Ryder Cup offers.