Eurozone finance ministers likely to miss rescue target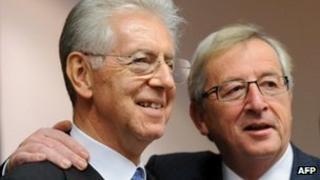 Plans to expand the eurozone's debt rescue fund to about 1tn euros ($1.3tn; £860bn) look unlikely to be achieved.
Eurozone finance ministers held talks late into Tuesday evening in a bid to agree a deal on bolstering the European Financial Stability Facility.
But Eurogroup chief Jean-Claude Juncker said after the meeting that the 1tn euro target was unlikely to be hit.
Ministers also agreed to release the latest 8bn euro ($10.6bn; £6.8bn) tranche of bailout money to Greece.
Mr Juncker said the expansion of the EFSF's firepower would nonetheless be "substantial", but gave no details.
"We haven't lowered our ambitions but the conditions have changed, so it will probably not be one trillion euros but less," he told reporters after chairing the finance ministers meeting in Brussels.
"But it will still be substantial," he added. European leaders want to bolster the EFSF from 440bn euros in case large economies such as Italy or Spain need to call for bailout money.
However, ministers did agree to allow the bailout fund to partially guarantee potential losses investors might incur on the purchase of government bonds.
In a statement the EFSF said the guarantee would give a bondholder "an amount of fixed credit protection of 20-30% of the principal amount of the sovereign bond.
"The partial risk protection is to be used primarily under precautionary programmes and is aimed at increasing demand for new issues of Member States and lowering funding costs."
'Unpredictable'
Ministers also decided to create co-investment funds to allow public and private investors to participate in the EFSF. But EFSF chief Karl Regling said it was impossible to give a figure at this stage.
"All of this is unpredictable, and market conditions will also change over time so that's why it's not possible to give one number," he said.
Increasing the power of the EFSF from its current lending capacity is seen by investors as vital to combating the debt crisis.
While current bailout provisions were adequate for countries such as Greece, Portugal and the Irish Republic, much greater firepower is needed in case larger economies such as Italy and Spain need help.
Fears that Italy in particular may need financial assistance were raised on Tuesday when the government was forced to pay much higher interest rates.
In an auction of 10-year bonds, Italy had to pay a rate of 7.6%, compared with 6.1% at a similar auction last month. Three-year bonds carried a yield of 7.9% compared with 4.9% a month ago. Such high interest rates are seen as unsustainable.
The sale raised 7.5bn euros, which was towards the top end of the target range.
Strong leadership
European leaders are coming under increasing pressure to agree a decisive plan of action to resolve the debt crisis.
On Monday, US President Barack Obama called for bold action while Poland's Foreign Minister Radoslaw Sikorski urged Germany, the eurozone's largest economy, to take a stronger lead.
"You know full well nobody else can do it," he said.
Also on Monday, France and Germany proposed closer ties between eurozone economies, including binding limits on borrowing. These plans were well received by investors, who hope closer union would give policymakers the tools to solve the debt crisis.