The Chinese challengers to Sotheby's and Christie's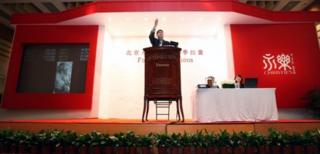 Art auctioneers Christie's and Sotheby's, which together dominate the sale of fine art, jewellery and antiques across the globe, both have a history that stretches back to the 18th Century.
But in little more than a decade rivals have emerged in China that present a major challenge to their long-standing duopoly and demonstrate how the art world is being transformed by the tastes of China's newly affluent art collectors.
According to French auction body Conseil des Ventes, half of the world's top 20, and five of the top 10 houses are now Chinese.
Six years ago, Beijing Poly, China's biggest auction house and now the world's third largest, did not exist. China Guardian, the world's fourth largest, has only been operating since 1993.
Art boom
The market for Chinese art has boomed in the past five years as China's millionaires and billionaires rediscover the heritage of their homeland.
Many are prepared to pay as much for a Chinese ink painting as for a Picasso or a Warhol, who, according to research firm Artprice, were ousted in 2011 from their position as the top-selling artists at auction by two Chinese painters little heard of in the West - Zhang Daqian and Qi Baishi.
While Christie's and Sotheby's make substantial sales of Chinese art and artefacts in Hong Kong, Chinese auction houses have captured the lion's share of this new stream of business.
China Guardian took $606m (£386m; 450m euros) at its autumn auctions in Beijing in November, more than the $412m Sotheby's took at its Hong Kong auctions in October. Christie's took $367m at its November Hong Kong auctions.
Beijing Poly's parent company, part of a sprawling conglomerate said to have links to China's military, is also rumoured to be preparing for a stockmarket flotation.
If successful, it would make it the world's second-largest publicly traded art industry company after Sotheby's.
Growing pains
However, growing pains have accompanied the industry's breakneck expansion and these will have to be overcome if Chinese auction houses are to truly challenge their international rivals.
A report from the official Xinhua news agency in June said "irregularities" in the artwork auction market were "rampant", particularly among smaller salerooms.
It's not uncommon for the seller, a big holder of the artist in question or even the artist themselves to bid on their own pieces to push up prices.
There have also been several high-profile cases of paintings sold at auction that have later been proved to be fake.
According to a report in the China Daily in October, Zhang Xiaogang, one of China's best-known contemporary artists, declared on a micro-blogging website that a portrait of a young girl purported to be by him and part of a sale by a Beijing auction house was fraudulent.
"It's a bad fake at first sight. Poorly done. How dare someone put it up for auction," the report quoted him as saying.
Following his declaration, the auction house withdrew the piece Zhang identified as fake from the auction and apologised to him, but other buyers have not been so lucky.
Non or late payment is also a problem, with the whole concept of auctions still relatively alien in China.
According to a recently reported survey by the China Association for Auctioneers, two-fifths of sales above 10m yuan (£1m; $1.5m) in China's 2010 autumn sales had not been fully paid by April last year.
Of course, whether or not money actually changes hands, the prices still stand, prompting many to speculate that China's record-breaking figures are inflated.
Jehan Chu, director of Hong Kong-based art advisory service Vermillion Art Collections, says: "There have always been questions about the transparency of sales results of mainland Chinese auction houses.
"These questions are not an issue for externally-audited Christie's and Sotheby's, but it will be a big hurdle for China's auction houses to assure people abroad that they have intent and ability to improve standards and practice."
Improving standards
Aware of the problems, Chinese auction houses are striving to improve standards and emulate their international rivals.
"The country has thousands of auction houses and among these there are some that engage in illegitimate behaviour and this has a negative impact on the whole industry's reputation," a Poly spokesperson said in an emailed response to questions.
"The problem has already attracted the government's and the auction industry's attention... and the auction industry will become more disciplined."
Guardian and Poly have opened offices in Europe and North America this year, prompting some to speculate that they want to challenge Christie's and Sotheby's on their home turf, but, for now at least, they are aimed at sourcing Chinese works of art to sell back home.
"They are compatible in terms of revenue but professionally - the way they handle customers - they are not at the same kind of level (as Sotheby's and Christie's)," says Budi Tek, an Indonesian-Chinese art collector. "But they are catching up."
Fighting back?
With Chinese law preventing foreign auction houses from holding auctions of artefacts and high import taxes making sales of wine, jewellery and watches commercially unappealing, there is little Christie's and Sotheby's can do to compete other than wait for China to level the playing field.
Both companies plan to hold more previews in China and have recruited more Chinese-speaking staff, both in Asia and in New York and London.
Christie's also has a licensing agreement with Beijing-based auction house Forever, which for a fee uses Christie's name and expertise.
So far its results have been lacklustre: its annual sales are barely a 10th of the $1.5bn Poly achieved in 2010, a fact Francois Curiel, Christie's Asia president, attributes to its refusal to adapt to the Chinese industry's murkier practices.
But Mr Curiel is confident that Christie's will be able to compete with China's auction houses.
China's wealthy have demonstrated they trust foreign brands when it comes to cars, clothes and handbags and he sees no reason why it should be no different for auction houses.
"In China, we are at a beginning of a cycle. In time, we hope our network, our reputation and our marketing power will convince people to buy and sell with us," he said.