Japan households reduce spending as unemployment rises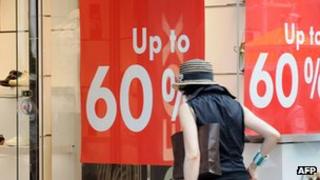 Japanese household spending fell while the unemployment rate rose in October, raising concerns about the country's economic recovery.
Household spending fell by 0.4% from a year ago, while the jobless rate rose to 4.5% from 4.1% in the previous month.
However, in a positive sign, retail sales rose by 1.9% from a year earlier, the first increase in three months.
Despite strong retail numbers, analysts said domestic demand may remain slow.
"We have to note that household income has been declining, while household spending has been pretty much flat, meaning people are using their savings," said Hideki Matsumura of Japan Research Institute.
"This could put pressure on household spending as we go forward," he added.
Slowing recovery?
Japan has been trying to stimulate growth after the earthquake and tsunami earlier this year caused widespread damage to the economy.
However, a slowdown in key markets such as the US and Europe have affected Japan's export-dependent economy.
Data released by the Ministry of Finance last week showed that shipments dropped 3.7% in October.
At the same time, a sluggish recovery has seen consumers in Japan hold back on spending, which is hitting domestic demand.
Analysts said the combination of these factors may hurt the economy.
"I don't see anything that will help consumption and the job market ahead as we haven't seen fully fledged reconstruction demand yet, and the global economy is slowing down," said Takeshi Minami of Norinchukin Research Institute.
"But if those factors improve, that would help the economy," he added.